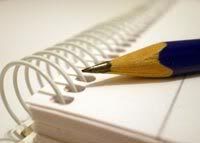 I wanted something that we could do that would be actual "copywork" and give the kids a chance to stretch themselves. This copywork spaces the verses that go with Little Hearts for His Glory over four days each week. Now some of the verses are longer and some are shorter. I did my best to space them to make sense within each days work. Two of the verses are longer and I have them spaced for more than four days. You could possibly finish these verses during the review weeks for copywork.
I have a
duplex printer
and so I try to make my
files able to print on both sides nicely
. I have all the verses (except for the couple that are longer then four days worth) on two pages. If you have a duplex printer if you start printing on page 2 you should be able to print out the whole document and have the verses on one sheet of paper.
The first page of the document is a title page for your child to write their name and decorate for a binder or booklet when they are finished
.
The copywork download is in zaner bloser font and the verses are from the King James Bible.
I would love your feedback on how this works in your family. Was there enough room for your kids to write? Was the copywork too much for one day?